The goals of the financial planning process are simple: to provide a roadmap for each client to achieve their financial goals by looking at all areas of their financial situation, such as retirement planning, wealth creation, insurance planning, estate planning, home loans and other areas.
Our goal is to truly understand what each client is looking to achieve so that we can develop a customised approach to meet our clients' objectives.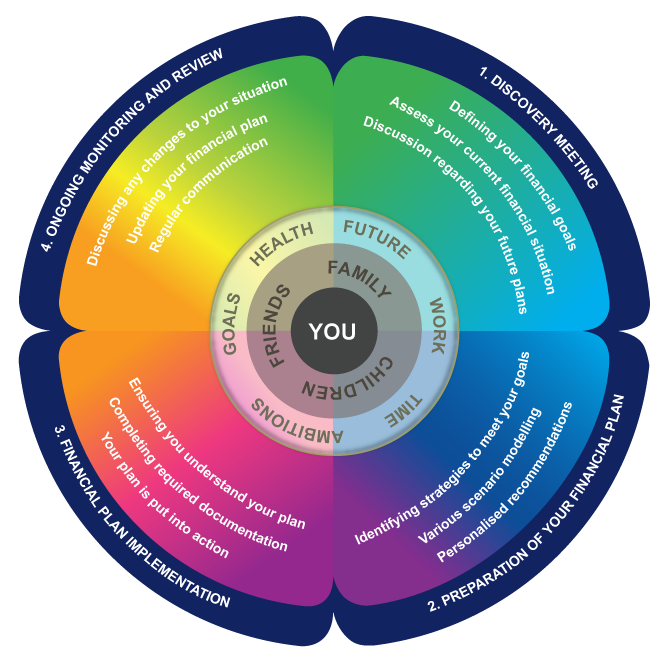 Click on Image to Enlarge
Discovery Meeting
This is our initial meeting, where we get to know more about YOU
What's important to you?
What do you care about the most and why?
What are your biggest obstacles?
A look at your current financial position.
This meeting is completely obligation free. It is simply a meeting where we can learn more about your goals.
After the discovery phase, we develop a plan that is personalised to your unique situation. Your financial plan will be clear, actionable and measurable.
We put your plan into action. We simplify your life by handling providing all the necessary documentation, and making the implementation process as easy as possible.
Review
We review, measure and assess your progress against your objectives and meet with you regularly to make modifications based on changes to your circumstances.
Our regular reviews are the most important part of the financial planning process, as it is likely that your financial objectives and situation will change over time. At True Journey Financial we are committed to building lifelong relationship with our clients – this way we can be sure to deliver quality financial advice that is constantly one step ahead.
We will keep you informed during each step of the process, and you will have access to your financial planner at any stage should you have any questions, or would like to discuss things further.
True Journey Financial Planning are ready to help you achieve your financial goals. Click here to contact us for a free consultation.